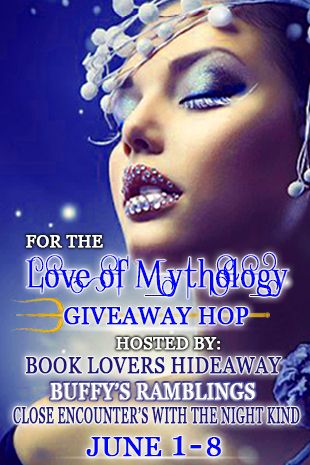 Love of Mythology HOP due to the tornado's that hit around us and the wind and hail damage to our house I can no longer afford to offer a prize. I have emailed Buffy but I'm sure some of you will find your way here before she gets it. So here's a place for you if that happens.
I love Mythology as the stories that surround it are fascinating and at the same time teach us a lot about life. One of the those lessons include that life doesn't always go as planned. But if we watch and learn we can see the bright side and the love that builds because of it.
I had a lot more to say but due to recent events I do not want to take too much of your time.
I do however would like to draw your attention to if you still manage to find your way here to Zeus by Kamery Solomon.
Amazon
Vegas is not where Karly had imagined herself to be at this point in her life.She was supposed to be living in California, soaking up the sun and enjoying the life of an artist. Instead, she's just moving out of her parent's house and going to a school that could loosely be called her second choice. When she meets Zeus Drakos, owner of the new hit casino and resort in town, he seems just like every other jerk guy out there. How was she supposed to know who he really was?
I loved this book!
This giveaway hop is running from June 1st to 8th . You must have your post up no later than 8am on June 1st.
The Grand Prize Consists of the following:
$45 Amazon GC or $45 worth of books at TBD.
ebooks from Patricia Bates
a prize from Lisa Beth Darling
an ecopy of Sunburn by Rosanna Leo
an ecopy of Ain't No Bull by Danica Avet
an ecopy of Remedy Maker by Sheri Fredricks
I'm sorry the Gods seem to have had other plans for me this week. I hope you all enjoy the HOP!
The link back is here